In this article:
Poll Everywhere works great on mobile devices. Presenters and participants alike can use either the mobile web interface or the Poll Everywhere mobile app to present, manage, and respond to activities. For frequent users, the Poll Everywhere mobile app, available for both iOS and Android, provides a convenient way to stay logged in.
Whether using the mobile app or a device's web browser, presenters can create new polls as well as manage existing ones, while participants can use either the web or app to vote, respond, and view their past responses.
The following steps will walk you through the process of installing the Poll Everywhere mobile app on your mobile device.
Install
Open the Apple App Store or Google Play Store, depending on your device, and search for Poll Everywhere (if you're reading this from a mobile device, the previous links will take you right to the Poll Everywhere page in the respective store). Once at the Poll Everywhere page tap the Get (for iOS) or Install (Android) button to install the app.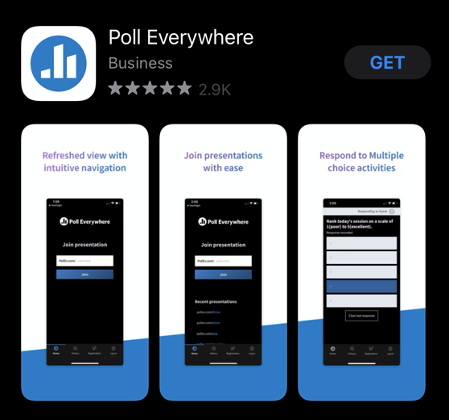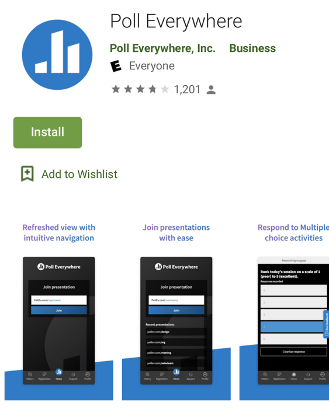 Log in
To log in, you'll need a Poll Everywhere account. You can get a free account at www.polleverywhere.com/signup. Once you have an account, click the menu button in the top right corner of the app, select Log in from the list, and enter your credentials. You are now ready to create, manage, and present activities.