In this article:
The profanity filter censors or blocks profanity in free text response activities such as Word Cloud, Q&A, and Open-Ended activities.
Note: The profanity filter and moderation are available as a premium feature for certain paid plans. Learn more on our plans page.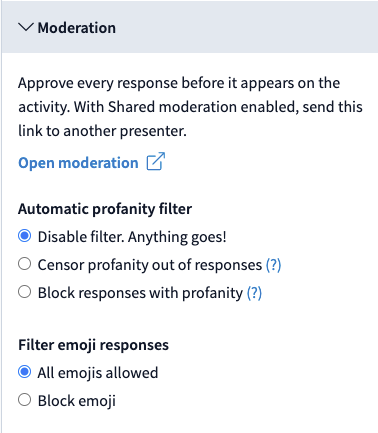 There are two ways you can block profanity from your activities:
Censor profanity out of responses will replace profanity with asterisks. For example, if "Jerk" was in our profanity dictionary, then "You jerk" would become "You ****"
Block responses with profanity will reject responses with profanity and prevent them from being displayed at all. This automatically uses the moderation approval flag to allow through messages that look okay. You'll still see the rejected messages in the Moderator view and in reports.
Helpful Tip: Vulgar individuals are always more creative than technology is smart. We suggest you look into the Moderation feature as well to review and only share responses you approve.
The full list of words in the profanity dictionary can be found here.