In this article:
The Poll Everywhere app for Microsoft Teams allows your online meeting participants to easily respond to your activities without ever having to leave the MS Teams app. Instead of asking your participants to pull out their phones, or navigate to your pollev.com response page; all they need to do is open the app within Microsoft Teams to respond in the side tab.
Getting started within Microsoft Teams
Step 1: Start by setting up a meeting and inviting the participants in Microsoft (MS) Teams.
Step 2: Start your meeting, and click the + App button at the top right of the meeting. Find the Poll Everywhere Participant App in the Microsoft Teams App Store and add it to the meeting.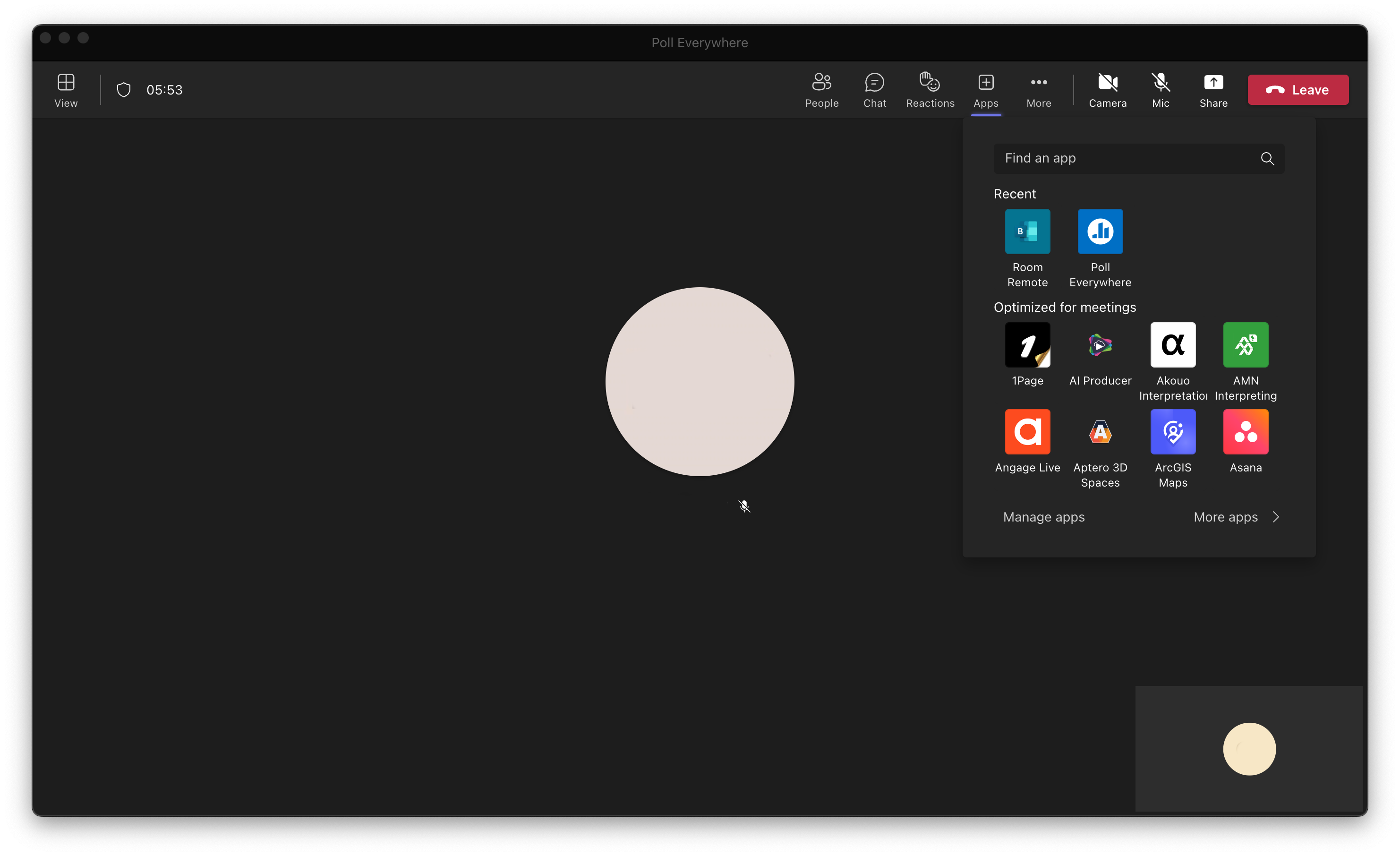 Step 3: Adding the app will present you with a new Poll Everywhere button in the meeting window. Clicking that button will open up a MS Teams log in modal for Poll Everywhere. This button will open a native browser that you can use to log into Poll Everywhere.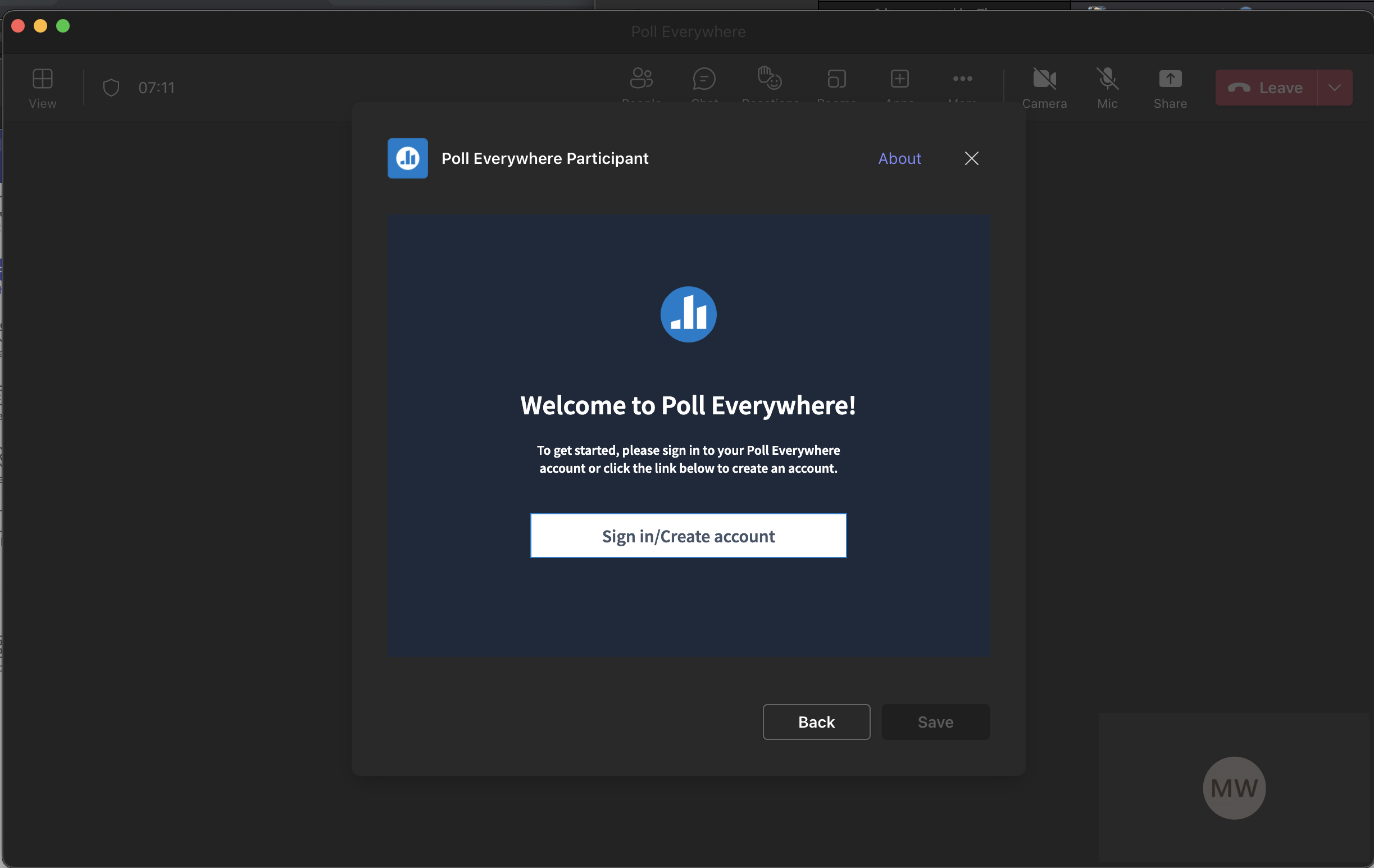 Step 4: You can close the native browser once you have completed authentication. You will now see the MS Teams participant modal show you successfully logged in. Click 'Save' to close the modal and continue.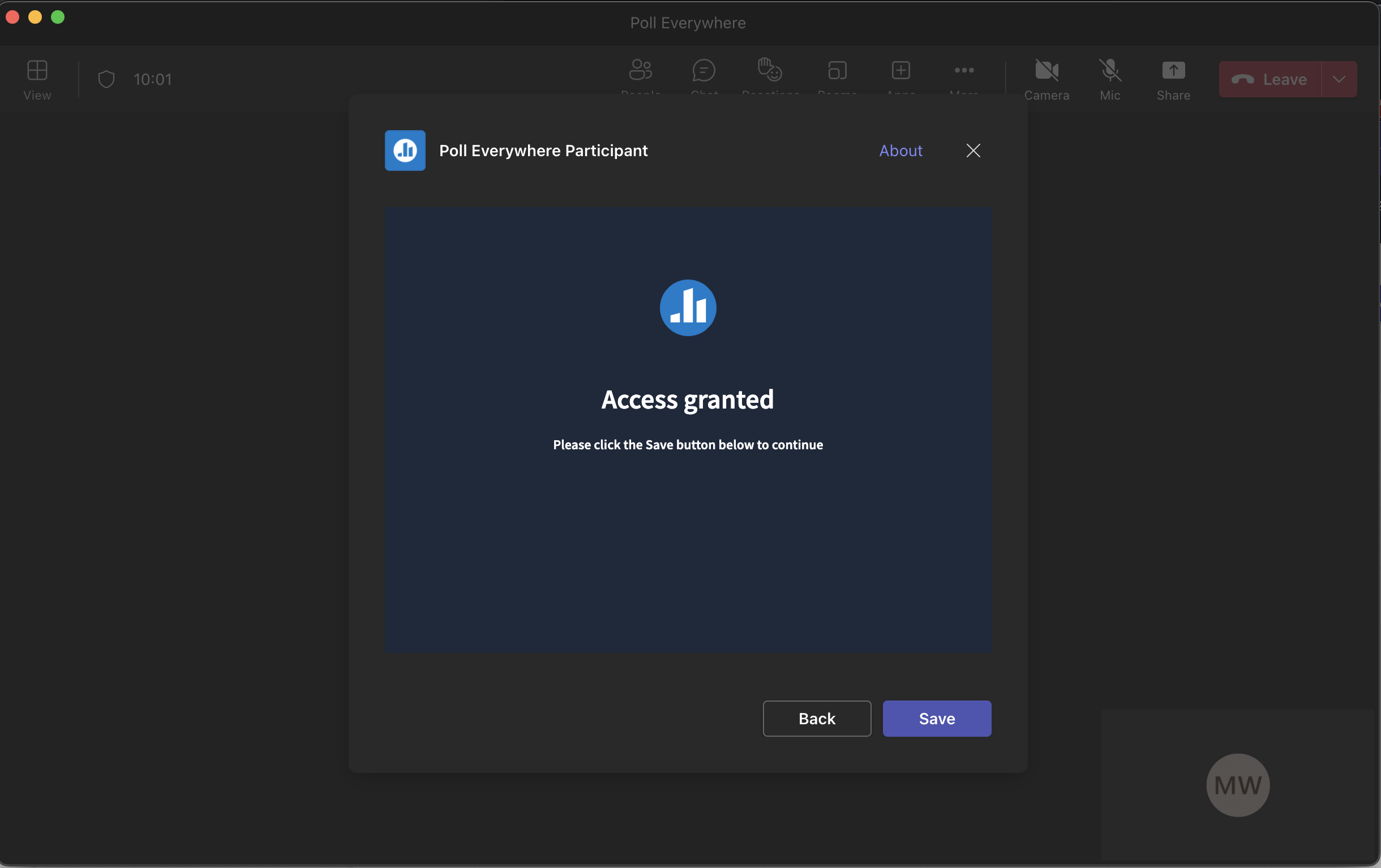 Step 5: Now, you and the participants can click the Poll Everywhere button within MS Teams to open a side tab to your presenter's PollEv response page.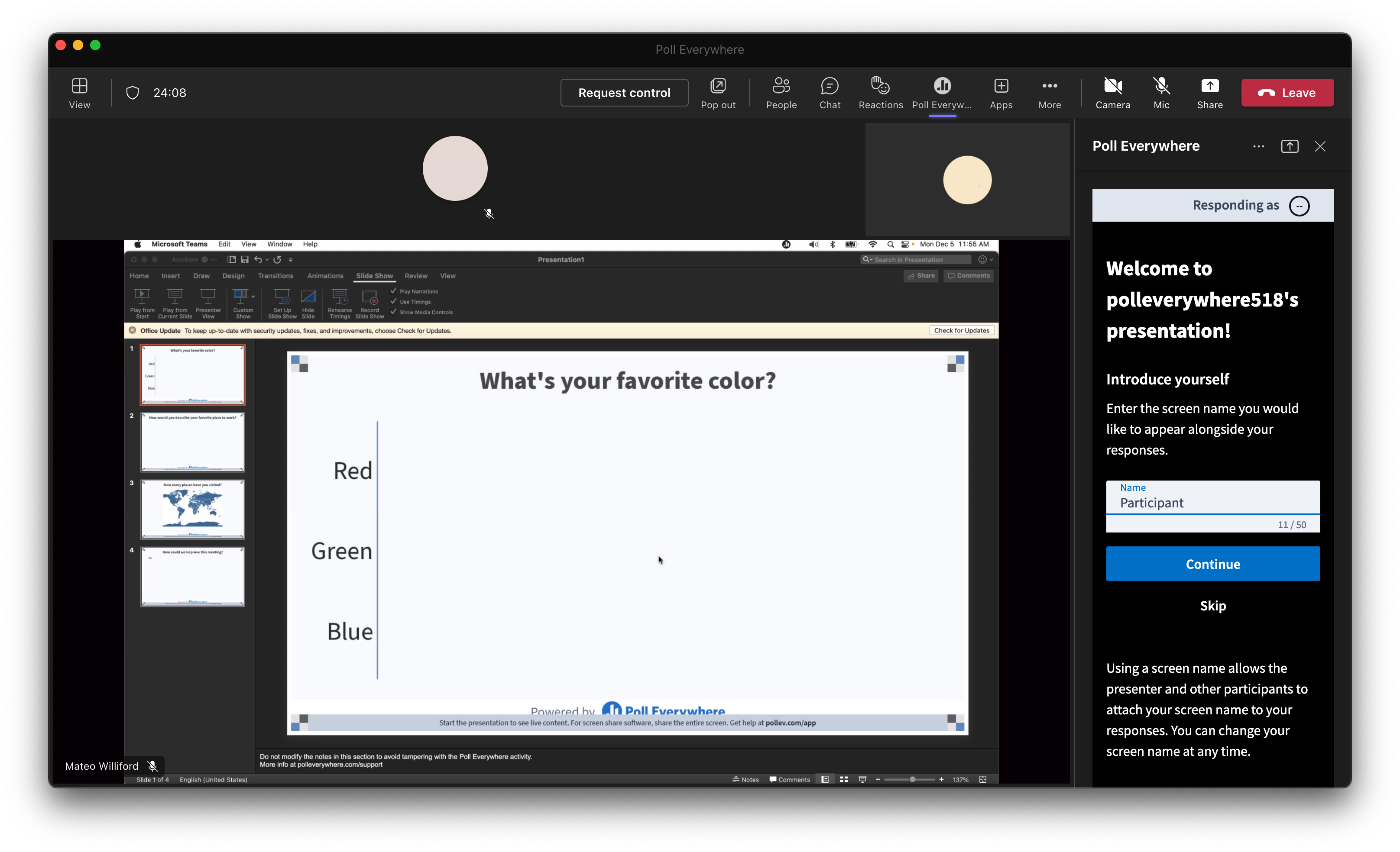 Step 6: Now the Poll Everywhere app for MS Teams is set up! Simply share your screen within MS Teams and use your favorite Poll Everywhere presenter app to present your content. When you reach a poll slide, you can instruct your participants to click on the Poll Everywhere icon to open up the side tab and respond!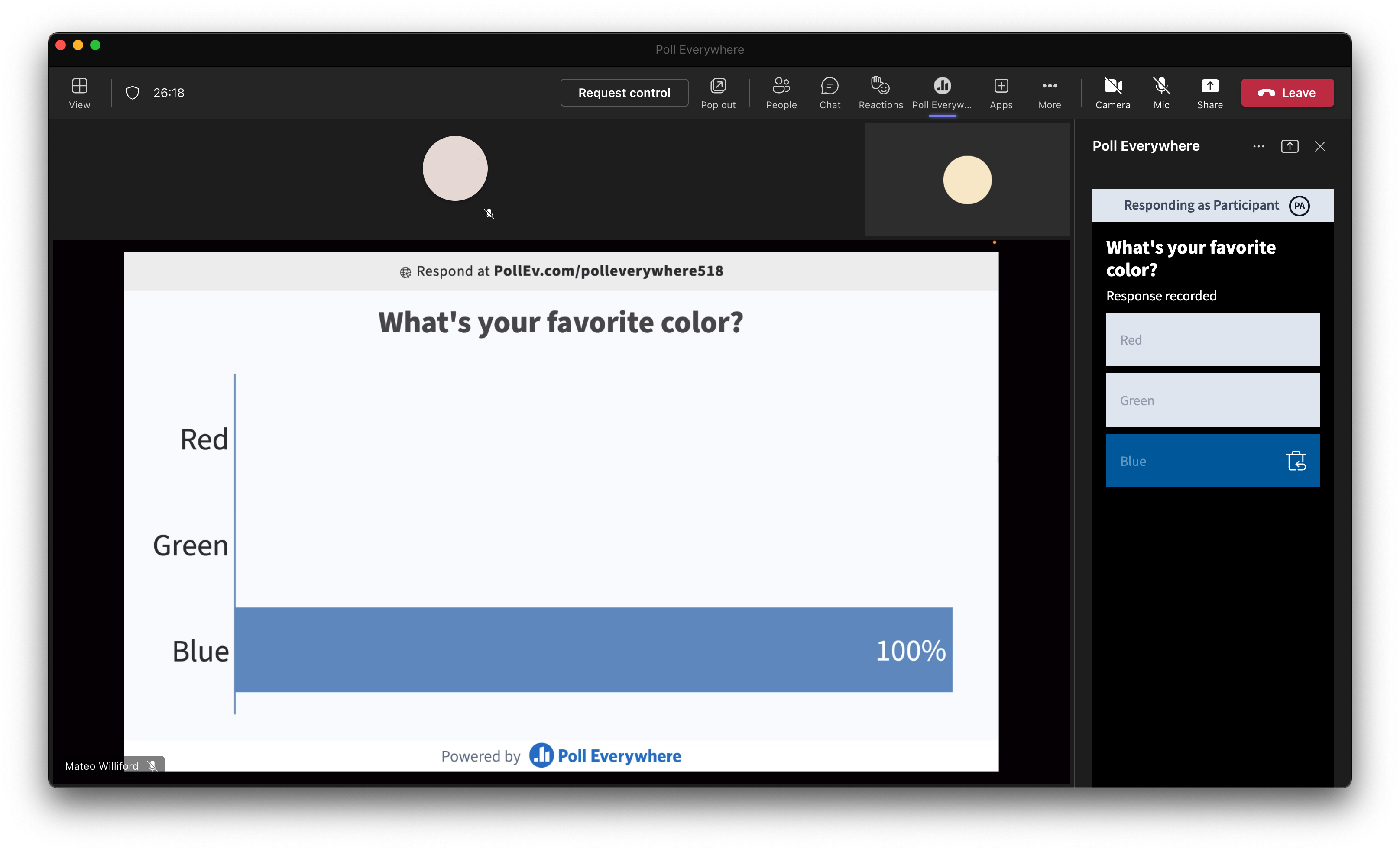 Step 7: The Poll Everywhere app for Microsoft Teams works with all the features of your activities and the presenter's Pollev response page. Feel free to experiment to find the practices for presenting and participation that work best for you!
If you have any questions or feedback, feel free to reach out our Support Center here.