In this article:
This article helps users install the Poll Everywhere app in Microsoft Teams in the event that the app is not showing up in the Desktop store.
Option 1: Quit the Desktop app
If the app is not showing up in the Desktop app store, quit the Desktop app and try searching again.
Option 2: Using the link in the web interface
If the first option doesn't work, please attempt to open the link we provided to Microsoft App Source in the web interface (teams.microsoft.com) instead of the downloaded desktop app. To access the link, visit here: https://www.polleverywhere.com/app/microsoft-teams
The steps to complete Option 2 are the following:
Step 1: Click Get it now button

Step 2: Ensure you are logged into a Microsoft account that is connected to a work or school account.
Step 3: If you get a pop-up that says "teams.microsoft.com" wants to open "Microsoft Teams", then click Cancel.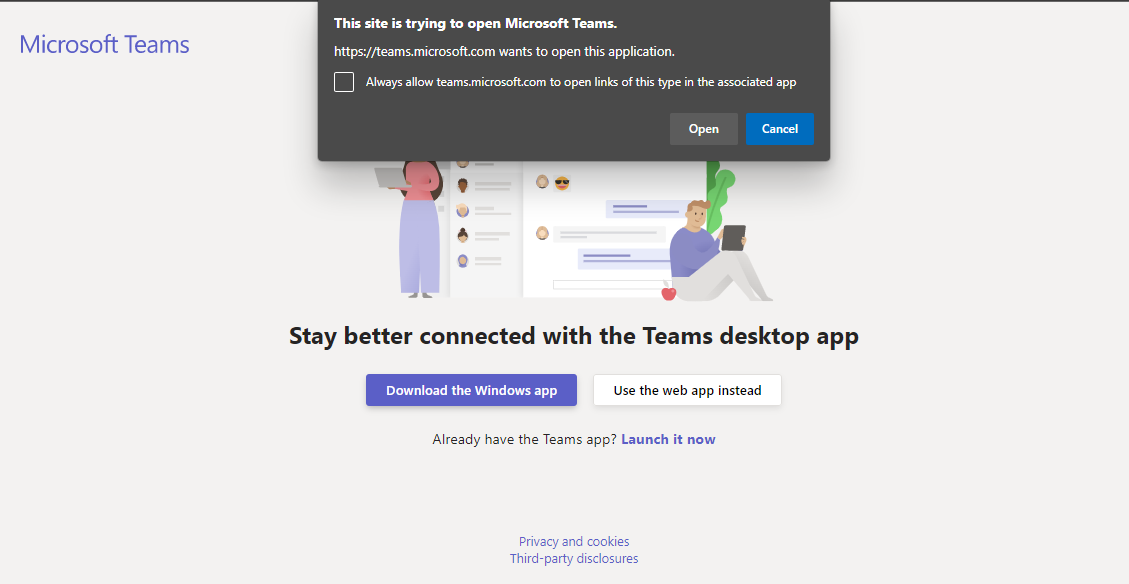 Step 4: Click on the "Use the web app instead" button. This will take you to the Microsoft Teams online interface.
Step 5: Install the app like you normally would in the desktop interface.
Step 6: After installing, the app should be working properly in the desktop version.
If you run into issues or have questions, feel free to reach out to the Support team.