In this article:
As a presenter, you may want to re-use the same activity for different presentations and would like to clear responses in between sessions. Once you clear the responses, they are saved and archived on the account. There are different ways to view your archived data: Response history and Reports.
Note: The reporting feature is available on premium plans. Visit the Plans page to find one that's right for you.
Response history
If you are only looking for information for a single activity (that's not a Survey and/or Competition), this first way is a bit quicker. You can view your cleared responses by clicking on the Response history button from the single activity page:

​​​​​​Each time poll results are cleared, a "run" is created based on the date it was cleared. You can select the appropriate run of cleared results under the All Runs menu.
​

Reports
The second way takes a few more steps but is great if you want to include multiple activities at once. You can generate a report for a specific set of cleared response data by following these steps:
Click the Reports tab on the navigation bar located on the left-side

Click the Create Report button

Select the

type of report

you wish to generate

Select the activities you want to include in the report

Click the

Create Report

button

Click the Select run option

Select the Archived run option

Choose the appropriate run of data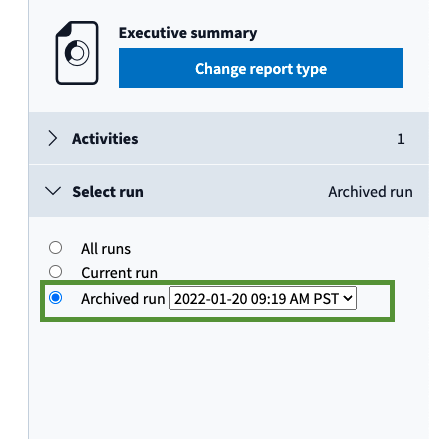 Note: You will want to select the activities that were cleared at the same time to have them shown on the same report.​
If you select activities that were not cleared at the same time, you will not see the Archived Run option. If activities were cleared at different times, you will need to run multiple reports to get the various Archived Runs.
For example, if a presenter has five activities, and they cleared two at one time, and three at another, they will not be able to run a report for all five and view the Shared Run option. They will need to run one report for the two questions that were cleared and another report for the three questions that were cleared.
Helpful tip: If you clear responses on a single activity, you can name the archive run on the My activities list page or through the Response history page. However, if the single activity is part of a series with other activities, it is best to clear all of them as a whole. Learn more about Clear responses.