Surveys allow you to ask your participants multiple questions at once. Everyone can answer the questions privately at their own pace. They're great for quizzes, pre- and post-training assessments, questionnaires, etc. Surveys can be activated and displayed on your pollev.com response page, shared with a dedicated link, or even used during a presentation. See our article on how to activate and share surveys.
How to create a Survey
You have the ability to create a Survey in two ways. The first is starting from scratch.
Step 1: Tap the Activity button at the top left of your Activities page.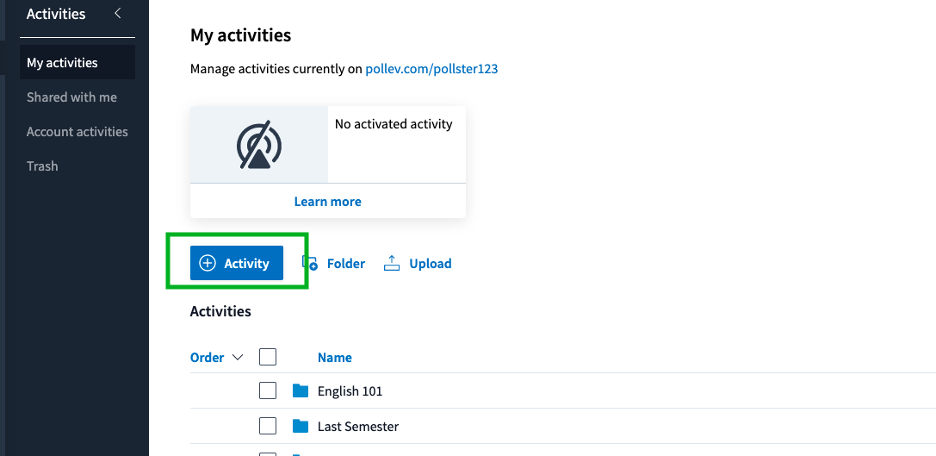 Step 2: Select Survey from the list of activities.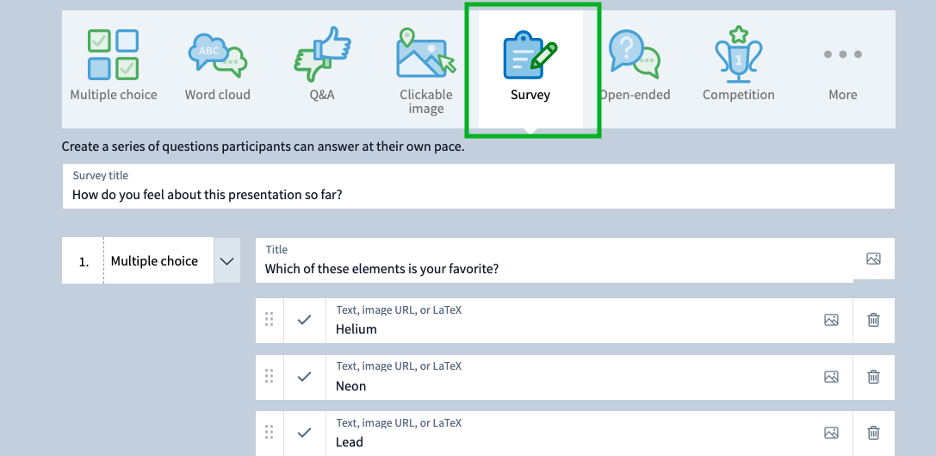 Step 3: Give your Survey a title.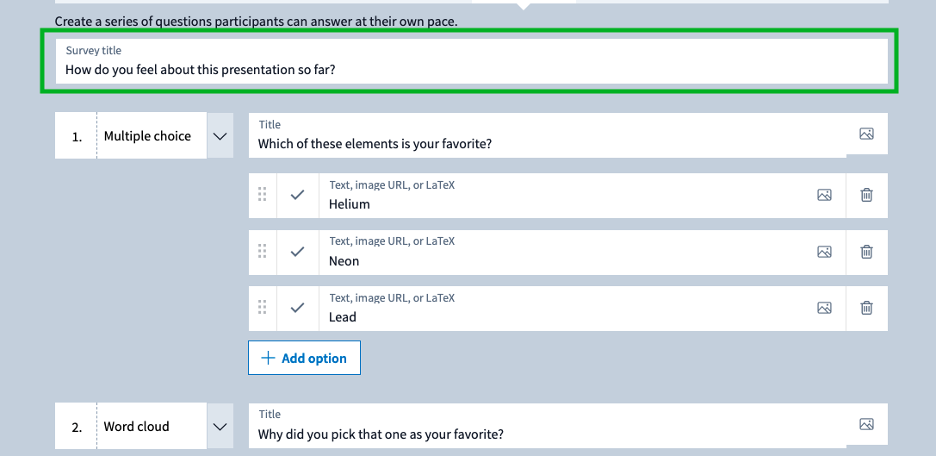 Step 4: Use the dropdown menu to select the type of activity you want to include in your Survey.

Step 5: Continue the process, adding as many questions as you wish.
Step 6: When you're ready, click the Create button to build your Survey and save it to your account.
Edit your Survey
Step 1: Select the Survey on your Activities page.
Step 2: Select the slide you want to edit.
Step 3: Click the Edit button on the preview slide.

Step 4: When you're finished editing, click the Save button near the bottom right.
Delete a question
The Delete button at the top right will delete a slide from your survey. Keep in mind that this is a hard delete. There is no recycle bin where deleted data can be recovered, so be certain before you delete any of your slides.

Rearrange the questions
If you decide you want to run your Survey in a different order, you can use the up and down arrow buttons on the slides to rearrange the questions in your Survey.
Clear responses
The Clear responses button at the bottom of the survey edit page will clear all the responses to your Survey and enable you to run the Survey another time.
Note: This clears all the responses for the entire Survey, not just the slide you're currently focused on.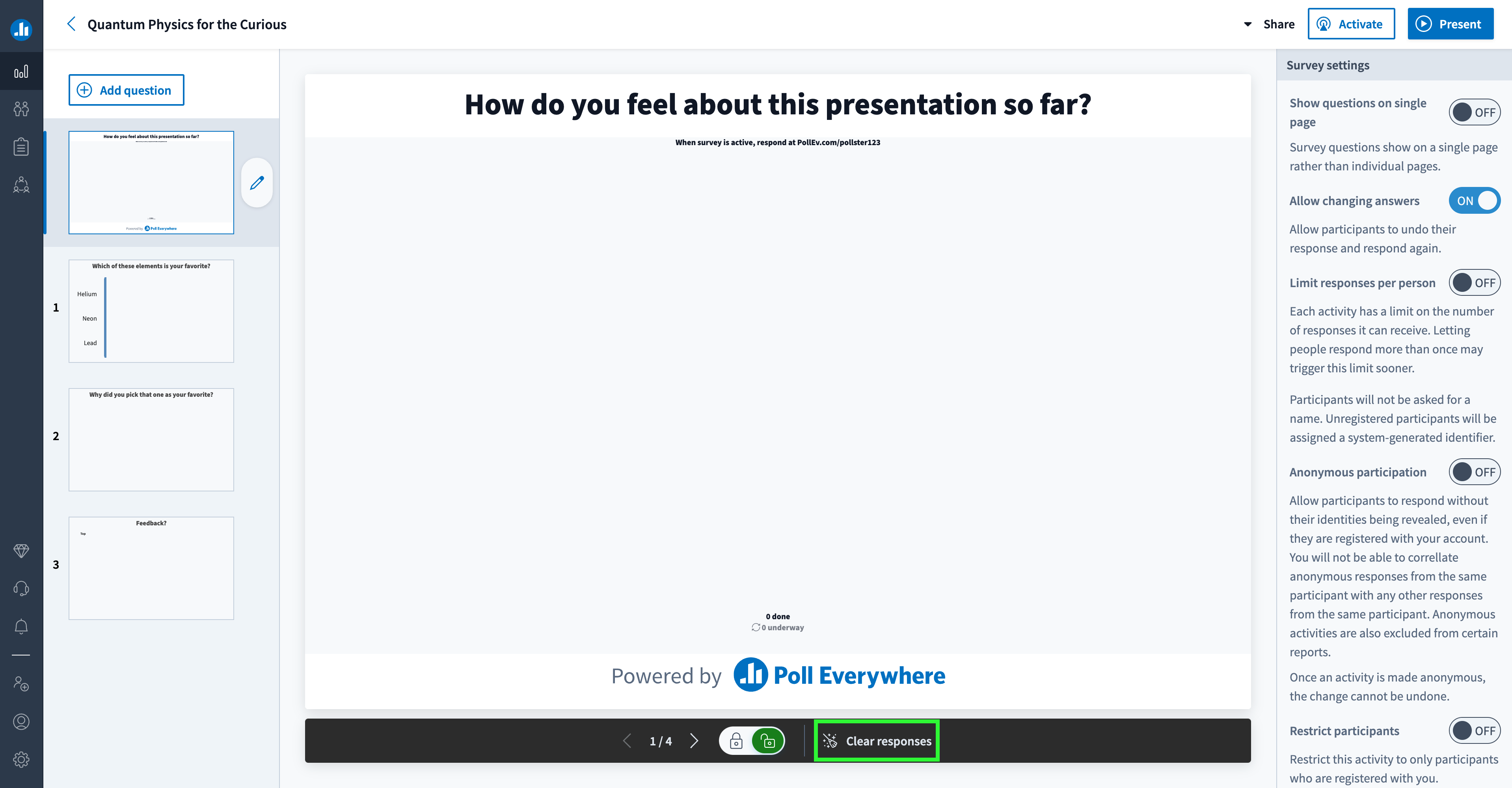 Convert to Survey
If you have individual activities that you would like to convert into a Survey activity, you can create a folder, drag or move individual activities into the new folder, and then convert the folder into a Survey.

Note: Multiple choice, Word Cloud, Q&A, Clickable Image, Open-ended, and Ranking are only allowed to be converted or included in a Survey activity.
Step 1: Locate the activity that you would like to adjust
Step 2: Click on the Actions button (three vertical dots) next to the activity title
Step 3: Select Convert to Survey to convert the activities' folder into a folder

​
​